Putting together the physical pieces of something I dreamed up in my head, sketched in a notebook, and designed on a screen is one of the most rewarding things I can do with my day.
As is befitting a holiday of such epic proportions (because, as we all know, mothers are the cornerstones of any good adventure), I undertook my greatest design challenge to date.
I set out to make a card worthy of my mother.
First, I sketched a bouquet of tulips, penning little sayings that came to mind when I thought of the woman who had raised us six kids, homeschooled us every day of our lives until she put us on a bus and waved us away to college with tears in her bright blue eyes. She spent hours listening to us repeat the same readers, misspell the same spelling words, replay the same audio books, and chant the same Bible verses. But a bouquet of tulips is MY favorite, not hers, so I switched gears…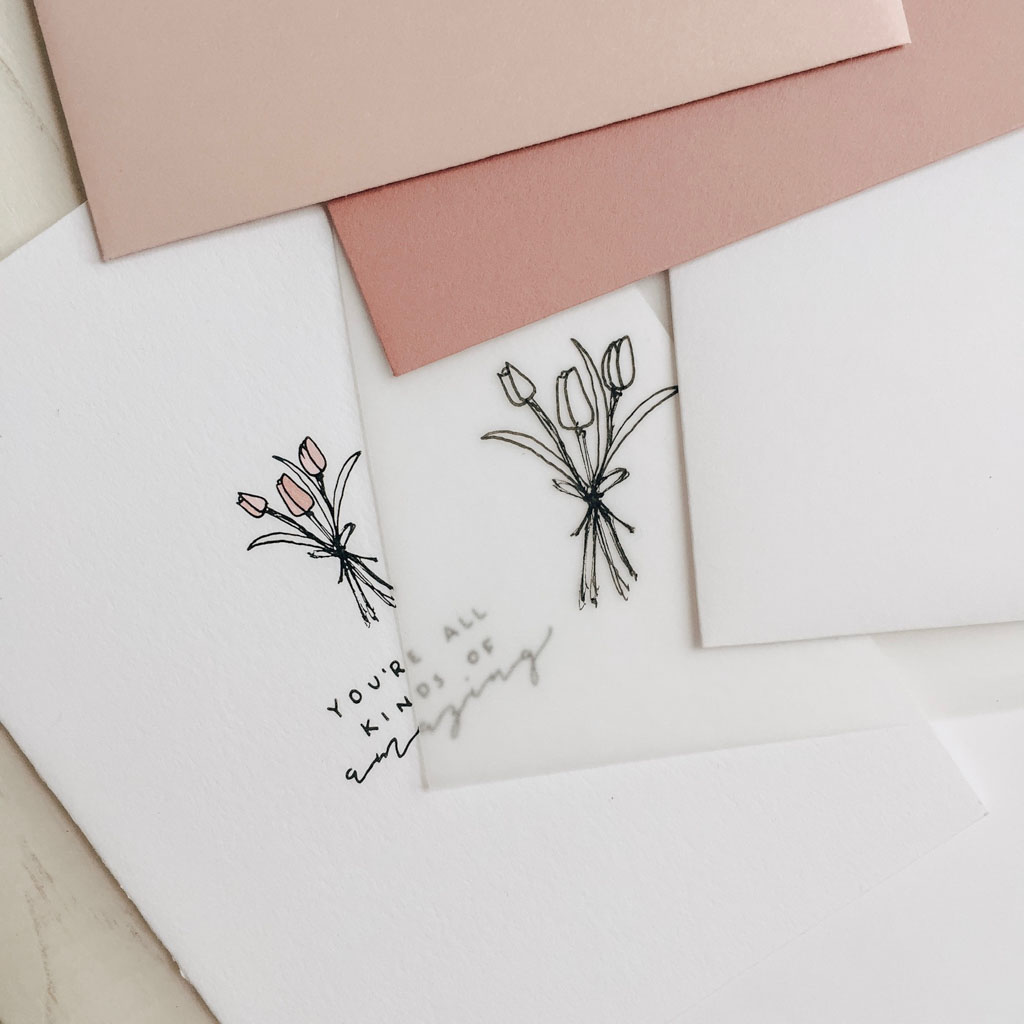 And ended up with about the exact same thing… because she loves flowers. So much so that she spends her birthdays and holidays planting "islands" of purple or red or pink blooms around the campgrounds she calls her home and maintains year-round. But while the sweet little flowers remind me of her and the way she digs deep and helps everyone around her burst into color and thrive, they didn't fully encompass the love of a woman who had spent her whole life giving and serving and loving on every being who walked past her threshold. The woman who had more "adopted" children than ones she gave birth to, the woman my friends would ask if they could get advice from.
So I kept trying. The love chapter was one of the first full chapters my mother had us memorize, and I can still recite it with about 95% accuracy. She didn't just drill words into our heads, though, she lived them out for us to watch and someday live out ourselves as friends, spouses and mothers. She embodied faith, hope and love in a way that inspires those around her to cling to the goodness in that still small Voice.
Which of course led me here, to the Proverbs 31 woman. Because if there's anything I can say about my mother, it's that she's the strongest, most dignified and fearless woman I have ever met. And her ability to hold her head high as she faces the unknown has helped me past many a dark night and cloudy sky.
So in the end, I decided to send her all of them, because a mother isn't something you can capture in one little doodle or a few sweet words. A mother is gentle like a blushing flower but determined like a bulb forcing its way toward the sun as the snow still covers the earth. A mother is tired but never gives up. A mother is always giving and always hoping and always, always love. A mother is strength and dignity and fearlessness, because whatever comes, hell or high water, she will do whatever she must for her children.
That's the mother I have, and that's the mother I hope to be for my daughter. The mother I hope she looks to as she someday becomes a mother herself. Because I've never experienced anything more precious than being a mother, and I hope she grows up knowing love as deeply and wholly as I do because of my mother.
Here's to mothers, to the ones who taught us by example and waited patiently for us to grow into the shoes they let us play in.